Welcome to Queen's University Summer Accommodations!
This guide provides updated information about our summer accommodation offerings and available campus services. If you require further information during your stay, please don't hesitate to contact our 24-hour front desk staff at 613-533-3183 or email the front desk at smithdesk@queensu.ca.
For other news on what's happening in Kingston during your stay, please visit: www.visitkingston.ca
Check-in time: 3:00 PM
Check-in Information
At the time of check-in, full payment is due.
Our 24-hour summer accommodations front desk is in the lobby of the David C. Smith House.
Check-out time: 11:00 AM
Check-out Information
To avoid any additional charges, all guests must return room keys to the front desk upon check-out.
Housekeeping
Our housekeeping team provides cleaning services between 9am and 1pm.  Housekeeping is provided every other day with linen changed after your 6th night.* Extra towels may be available through the front desk. Long-term stay guests will have weekly service coordinated through the front desk upon check-in.
*Group Bookings and Long Term Stays may have different frequencies. Please check with the front desk for your scheduled housekeeping services.
Animals
Only service animals are permitted to join guests in our accommodations.
Amenities
Rooms include duvet and bed linens, towels, pillows, and soap. Please remember to bring remember a hairdryer and personal toiletries.
Telephone / Internet Service
Guests are welcome to use the courtesy phone available in the lobby at the front desk.
Both David C. Smith House and Brant House have complimentary WiFi throughout the building, and guest rooms.
Instructions for guest access to WiFi are available on your key cardholder or available at the front desk at 613 533-3183.
---
In-Room Thermostat Control
The thermostat can be turned on by pressing the top right-hand "on" button. A person icon should appear on the screen to indicate it is in the "occupied" mode. Please call the front desk (613-533-3183) if the icon does not appear. On the bottom line of the display, the set temperature is indicated. Decrease the set temperature using the down arrow located on the bottom of the controls. Ensure the window is shut for air-conditioning to work correctly.
Coffee Service
Coffee will be available in the David C. Smith House lobby from 7:00am to 10:00am daily.
Business Centre
The business centre is located in the David C. Smith House lobby and is available for use 24-hours.
---
Lost and Found
Contact the front desk at 613-533-3183 to enquire about lost or found items within our accommodation buildings. For items lost in other campus locations, contact Campus Security at 613-533-6000 ext. 77490. We are not responsible for lost or stolen items.
---
Parking on Campus
Parking is free on campus during evenings and weekends. During the day, Monday – Friday permits are required which are available for sale at the front desk for $10 daily through the HONK App or Pay and Display. All summer accommodation guests must park in the Tindall field parking lot location.  Accessible and check-in parking are available in the Brant House parking area.

Download the campus map here.
Campus Map
---
Fitness
Please check https://rec.gogaelsgo.com/ for complete details regarding our fitness offerings.
The Queen's Athletics and Recreation Centre (ARC), located at 284 Earl Street, features several amenities, including a 14 lane indoor pool, 8 squash and 2 racquetball courts, 3 gymnasiums, 5 fitness/cardio areas and 2 combative rooms. Please note to use the facility unsupervised guests must be 18 years of age or older. Daily and weekly passes are available for purchase at the ARC customer service desk.

---
Services on Campus
Bank/Debit Machines – Located in the Athletics & Recreation Centre, lower level of John Deutsch University Centre (closed for summer 2022) and on the ground floor of MacCorry Hall. Bank machines are also available at the Kingston General Hospital – 76 Stuart Street.
Art Gallery – Agnes Etherington Art Centre is located at the corner of University Avenue and Bader Lane and has a sizable collection and featured exhibitions. To view the gallery hours of operation visit https://agnes.queensu.ca/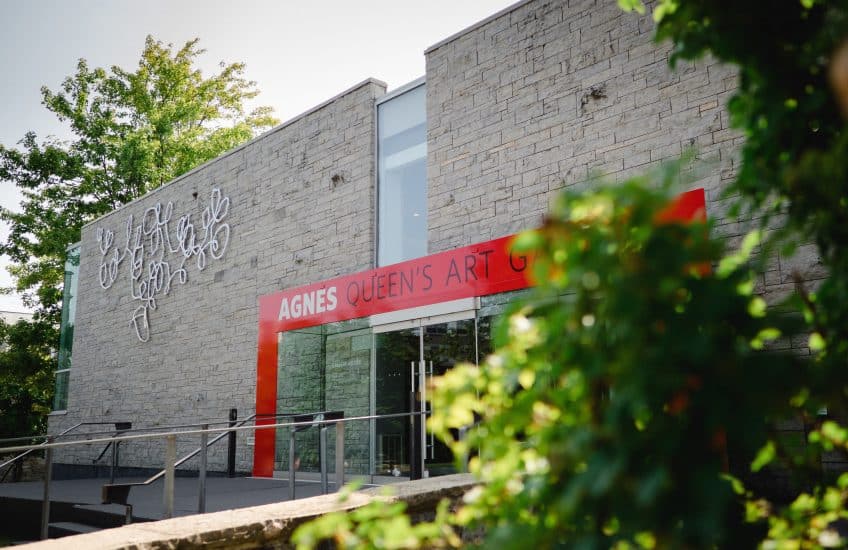 ---
Security
Queen's University Security Staff are on duty 24-hours a day and regularly patrol the campus regularly. Emergency telephones (identified by a blue light) located throughout campus have direct access to the Queen's Emergency Report Centre. If you have security concerns within the residence, don't hesitate to contact your front desk or Campus Security and Emergency Services:
Emergency Report Centre – DIAL 613-533-6111 or DIAL 911 for the 911 dispatcher
For non-emergency Campus Security enquiries – DIAL 613-533-6733
Please note the location of life safety equipment (alarm pull stations, extinguishers etc.) and emergency exits in your building. In the event of an emergency:
Evacuate the building if the fire alarm sounds by using the nearest stairwell. Do not use the elevators.
Remain outside the building until advised that it is safe to return.
Guests who are unable to use the stairwell must shelter in place and call Campus Security to inform them of their location.
Please note that any guest who willfully tampers with or breaks a public or private fire alarm apparatus or any fire-fighting equipment, or gives, transmits or sounds any false alarm of fire will be charged with a misdemeanor. All guests will also be responsible for any damages resulting from the action (e.g. cost of refilling fire extinguishers).

Residence Regulations
Damage – Any damage to campus/residence buildings or furnishings that result in additional cleaning or repair requirements is an additional cost billed to you or your group.
Prohibited Items – Glass beer bottles, kegs, candles, non-service pets and personal barbeques are not permitted inside or on the grounds of Queen's Residences.
Smoking – Smoking or vaping is not permitted inside any building or on Queen's campus property.
Noise – Please respect our quiet hours of 11 p.m. – 7:00 a.m. Guests who disturb others may be reported to Campus Security and asked to leave their residence without a refund. If noise from another group is disturbing you, please contact the front desk.
On behalf of Queen's Event Services, thank you for staying with us this summer!
Queen's Event Services offers a full spectrum of accommodation and event management services on campus. All revenue generated from our services contributes to student life programs and the University's learning environment.

---
Kingston's Restaurant Guide. Visit: https://www.visitkingston.ca/eat-drink/
David C. Smith House
222 Stuart St.
Kingston, ON, K7L 2W1
Telephone: 613-533-3183
Email: smithdesk@queensu.ca